Ellen Klages: Toastmaster for Nebula Awards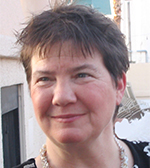 Author Ellen Klages will be the Toastmaster for the 49th Annual Nebula Awards ceremony, May 15-18th, 2014, at the Marriott in San Jose CA.
Klages short fiction has won the Nebula Award and has been nominated for the Hugo, World Fantasy, Locus, and Campbell awards. Her novel The Green Glass Sea won the O'Dell Award for historical fiction. She has also been an auctioneer and fundraiser for Clarion West and the James Tiptree Award.
Internationally known as an entertainer of great wit and comedic timing, she has a degree in Philosophy;  is a graduate of the Clarion South writer's program and the Second City Improv Conservatory; and lives in San Francisco, where she has a small house full of strange and wondrous things.
Klages will be joined at the event by Damon Knight Grand Master: Samuel R. Delany,  Special Guest: Frank M. Robinson, and the Nebula Award nominees.
Mirrored from SFWA | Comment at SFWA
Tags: nebula awards, news, sfwa blog